My new book Fintech, Achieve Bigger, Quicker Returns is now out, available to purchase on Amazon, click here for details.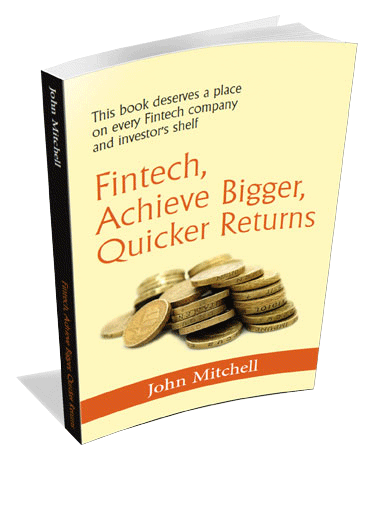 Click here to see what some readers already think about it.
An estimated $196bn will be spent globally on Financial IT*. This ground-breaking book shares exactly what it takes to win business in the complex Financial Technology market (Fintech) through building credibility with the buyers.
The book is a must for Fintech companies be they mature, early/growth stage or just a fledgling start-up. It is also aimed at those that care passionately about the success of those including Fintech investors and funds, Bank Innovation labs and the wonderful Fintech Accelerator communities.
Written by one of the most experienced buyers of financial services' IT this book stands conventional sales thinking on its head by sharing, in simple easily understood language, a unique perspective into to exactly what the customer looks for in potential vendors and what they do and don't value. Together with an invaluable insight as to what the buyer has to go through to purchase the product or service and their hidden selection criteria.
* Celent: 2015 forecast Global Banking IT spend
Some kind words about the book

Helen Vandenberghe, Business Growth Specialist for consultants, coaches & Experts. www.GetClientsFast.Net

Nicole Anderson, Co-founder and CEO, Fintech Circle Innovate